Alert over children caught in Bluewater lifts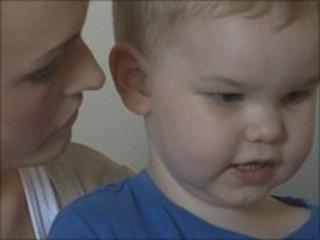 Two incidents where children became trapped in lifts at Bluewater shopping centre in Kent have led to additional safety measures being considered.
First aid had to be given to both children after the incidents on Friday and Monday at the Dartford mall.
The mother of one of the children said four men came over to pull her toddler free after hearing his screams.
Bluewater said investigations had shown the lifts were safe but further safety measures were being explored.
Sarah Jewett, from south London, said the lift did not move after her son's arm became trapped up to the elbow, and the doors did not spring back open.
She said Tyler was losing circulation when four men who had been eating their lunch nearby came to help and decided to pull the doors apart and pull Tyler's arm out.
She said: "I was coming out of the doors. He was following along behind, or next to me. And that's where he started screaming 'mummy help' and his screams got louder, and it kept closing."
She added: "He was terrified and he was shaking by then as well. He was in there for a good 15 minutes before he actually got it freed, so it was just terrifying."
Her son suffered bruising from the incident, she added.
A statement issued by Bluewater said there had been two unrelated mall lift incidents in recent days.
It said: "In both cases first aid assistance was given by Bluewater Safety Hosts within minutes of the incident occurring."
The statement added both lifts were closed and investigated, but inquiries showed neither was faulty and both complied fully with statutory regulations.
It added: "However, as safety always remains our top priority we are now exploring additional measures over and above the statutory requirements to hopefully prevent similar accidents happening.
"These were unfortunate accidents and we wish both children involved a speedy recovery."
Bluewater said four lift incidents had been reported in the past 12 months, but all lifts involved complied with regulations and no faults were found. There are 20 lifts in the shopping centre.