Legal graffiti zone created at Bexhill skate park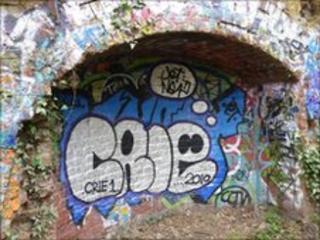 A legal graffiti zone has been created in a Sussex seaside town to encourage young graffiti artists to act within the law.
Rother District Council and Sussex Police have developed the idea and will monitor paintings at Bexhill site.
The zone is at the Galley Hill skate park at the eastern end of the town. Organisers decorated the ramp but left a large, blank area for new graffiti.
The council said people could showcase their work without fear of prosecution.
Councillor Deirdre Williams said: "This provides a great opportunity for talented young artists in the town to show what they can do.
"We are very happy for this site to be used to promote their skills in a positive way."
She said a graffiti workshop had been held to educate young people about the positive, legal approach to mural art.