Elena Kagan's military recruiting ban irks Republicans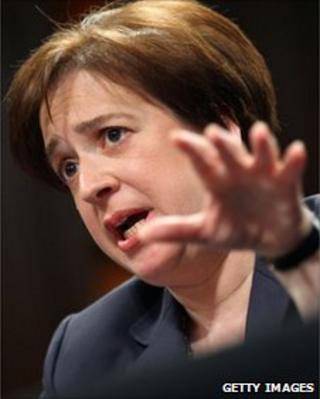 A second day of hearings for US Supreme Court nominee Elena Kagan became heated as she sparred with Republicans over her views on military recruiters.
As Dean of Harvard Law School, Ms Kagan briefly barred recruiters from using an office there because of the military's ban on openly gay service members.
Republican Senator Jeff Sessions accused Ms Kagan of denigrating the military and undermining the law.
Ms Kagan said: "I respect and indeed I revere the military."
She called the military's policy on gay service members "unwise and unjust", but maintains she allowed the recruiters access to students, just not to use an official recruitment office on campus.
"We were trying to do two things, to make sure military recruiters had full access to students and protect our anti-discrimination policy," she said.
Mr Sessions argued she was "punishing the military" and treating members as second-class citizens.
'No Justice Marshall'
The 50-year-old solicitor-general refused to be drawn on her views on cases that may come before the court.
But she did stand by the arguments she made on behalf of the government in the controversial Citizens United case, where she opposed easing restrictions on the financing of political campaigns.
The Supreme Court ruled against the federal government in that case.
On abortion, Ms Kagan said that any regulations must protect women's lives and health.
Conservative senator Jon Kyl pressed Ms Kagan about her former boss and mentor Justice Thurgood Marshall, who Mr Kyl believes used his position on the Supreme Court to push a liberal political agenda.
Ms Kagan reiterated her admiration for Justice Marshall, the court's first African-American judge, but assured the committee "if you confirm me to this position, you'll get Justice Kagan, you won't get Justice Marshall".