Two men in hospital after fire in Marylebone flats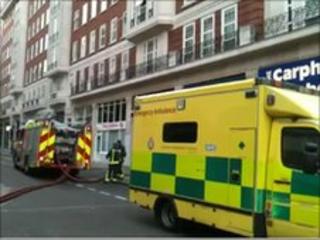 Two men have been taken to hospital following a blaze at a block of flats in central London.
Three people were rescued from the building at Berkeley Court, Glentworth Street, in Marylebone.
Two men and a woman were treated at the scene and 120 people were evacuated from the building, London Fire Brigade (LFB) said.
More than 75 firefighters tackled the fire which began shortly before 0200 BST and was put out by 0540 BST.
LFB said everyone was accounted for.
A London Ambulance Service spokesman said two men were taken to St Mary's hospital in central London after the fire.
"They were feeling unwell after leaving the building. They were not injured," he said.
'Complex building'
A LFB spokesman said 15 engines tackled the fire, which started in a 10-room flat on the fourth floor of Berkeley Court and an investigation unit was on scene to determine the cause.
"They'll be talking to local residents to find out exactly what happened," he said.
"It's a big, difficult and complex building.
"It's the professionalism, dedication and shear hard work of the firefighters that managed to overcome the amount of people escaping to get up and tackle the fire."
The spokesman added that residents were slowly being reintroduced back into the block.
Westminster Council opened an emergency overnight rest centre for those affected by the fire.
A council spokesman said an emergency rest centre had been opened at Seymour Leisure Centre.
The affected residents were moved into a nearby hotel where the council's social service teams were on standby, the council spokesman said.