Machine collects litter from the Thames at Westminster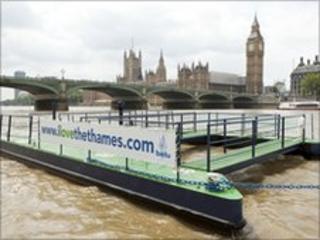 Litter thrown into the River Thames is to be gathered by a floating rubbish collector which is being moored outside the Houses of Parliament in Westminster.
The machine is designed to gather up to 40 tonnes of material each year.
It aims to clean up the river and stop litter from running into the sea.
Thomas Bell, of the Marine Conservation Society, said marine animals could become entangled in debris and plastic bags they have mistaken for food.
A year ago experts declared the Thames in London clean after an ancient blood-sucking fish was found on the river at Fulham.
The sea lamprey, an eel-like creature with a sucker-shaped mouth surrounded by teeth, pre-dates the dinosaurs.
But it only ventures into fresh water to breed if it is very clean, which is why the discovery was said to be significant.
Debbie Leach, the chief executive of environmental charity Thames 21, said there had been a "great improvement" in the state of the river in recent years.
But she said the amount of waste was "still too high" and welcomed the launch of the rubbish collector.