Danny Alexander rules out cancelling housing debt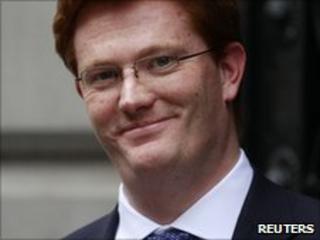 The chief secretary to the Treasury has said the UK government would not be able to write-off Highland Council's £146m housing debt in the short term.
Danny Alexander, MP for Inverness, Nairn, Badenoch and Strathspey, previously campaigned for the debt to be removed.
While visiting the Scottish Parliament he said the UK's "overall financial situation" must be resolved first.
Highland is spending £15m a year on loan charges to service the debt.
It has previously said cancelling the burden would allow it to commit more money to improving housing stock.
Mr Alexander said: "It is not something I can find scope for right away.
"In the context of what the challenge we are facing as a country it is something which sadly will have to wait until we have managed to put the overall financial situation of the country right."
In 2006, the local authority's tenants voted against transferring ownership of 14,500 homes to a private housing association.
More than 60% of tenants voted, with 59.7% of those against plans to transfer to Highland Housing Association.
Both Highland Council leaders and ministers had urged tenants to support the proposal, which would have seen the authority's £160m debt at the time wiped out by the Treasury and 1,000 more houses built.