Report released over Britannia Stadium sale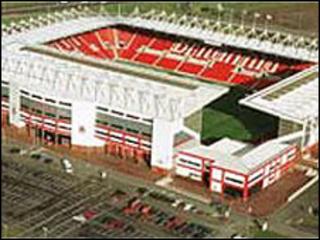 Councillors were not told a football club would pay a local authority in instalments to buy its share of a stadium, a report has found.
However, the Audit Commission ruled the deal over Stoke City Football Club paying £4.5m to the city council did not break the authority's rules.
The football club said the deal to buy the authority's share was "good value for the city".
The council said there is "greater transparency".
The district auditor's report said: "In considering whether the council had received a reasonable sum for the sale of its shares, I have.. considered the argument that there was a potential loss of interest in the region of £200,000 resulting from the agreement to phased payments."
But it also said: "Without phased payments the absolute value of the football club's offer to the council would conceivably have been less."
The report said there was a "lack of clarity around the decision-making process."
'Good value'
Kieran Clarke, the councillor in charge of the council's finances, said: "If they'd paid, say three, four hundred thousand less, and the interest is looking now at 2%, that's quite a big difference.
"We would have been worse off."
The council's chief executive at the time, Steve Robinson, now chief executive of Cheshire West and Chester Council, said: "I am not surprised to see that the district auditor now agrees that the sale achieved good value for money and that it was carried out entirely within the governance arrangements of the council."
The auditor's report also said the agreement obliged the football club to make community provision to the value of £500,000 available to the council over five years from 2007.
But it added it has been "unable to find" a framework of how the council was to monitor delivery.
Mr Clarke said: "That was all part of the same agreement, so it's difficult to see the way some of the things were agreed.
"But that's currently under review between the council and the club to see what can be done to run through to the end of the agreement..
"We now have a leader and cabinet so therefore the decisions are with the councillors, the officers then go and do the day job so that accountability is there now. There's greater transparency."