Pubs raise alcohol age limit during Henley regatta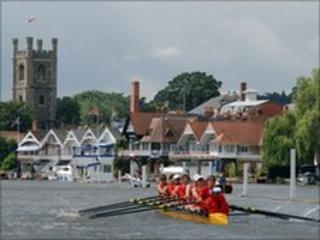 The age limit for people allowed to buy alcohol in some town centre pubs in Henley-on-Thames is to be increased to 21 during the town's Royal Regatta.
Fifteen pubs in Henley have voluntarily agreed to the restriction, organised by the local Pubwatch group.
The move is part of an attempt to limit anti-social behaviour during the five-day rowing competition, which begins on Wednesday.
More than 500 rowing crews from 20 countries will compete in the event.
Nigel Rainbow, chair of Henley town Pubwatch and landlord of the Three Horseshoes pub, said there have been problems with young people drinking too much in previous years.
He said: "The problem we have is people are drinking all day and as that goes on [behaviour] deteriorates.
"There's always going to be a minority of people who might ruin it for the majority."
Thames Valley Police said it was increasing the number of officers on patrol during the event to provide help and reassurance to the thousands of people expected to attend.