Private company wants £40m revamp of former cinema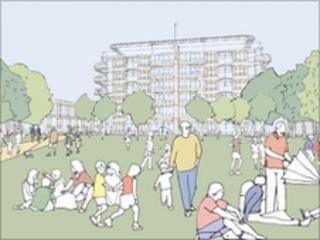 A property firm which owns the area next to Jersey's planned Millennium Town Park has announced plans for a £40m development.
Le Masurier said it wants to make a shopping area and car park, demolishing the former Odeon Cinema and properties on Bath Street and Rue de Funchal.
The cinema building is protected as a Site of Special Interest - similar to a Grade II listing in the UK.
Plans for the development were earlier presented to the States.
Le Masurier said the plans were aimed to compliment the town park and included a green lane to link the development to the park.
The Millennium Town Park forms part of the States' North of Town master plan.
Brian McCarthy, managing director of Le Masurier, said: "As presented to us the North of Town master plan provides no economic incentive to engage as the Odeon is proposed to be retained as an SSI.
"Our alternative proposals provide for substantial regeneration, offering synergy and connectivity with the Town Park ."