Cumbernauld residents asked to name £250,000 sculpture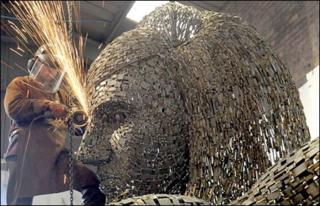 People in one of Scotland's most maligned towns are being asked to name a £250,000 sculpture which has been designed to boost the area's image.
Cumbernauld residents have until 30 July to email suggested names for the 10m (33ft) steel structure, of a female form, which will overlook the A80.
The town is a former "winner" of the infamous Carbuncle award for the most dismal place to stay in Scotland.
The sculpture, created by artist Andy Scott, will be unveiled this summer.
Mr Scott has also produced several notable public artworks in Scotland, including the M8 Heavy Horse and Falkirk Helix Water Kelpies.
'Iconic landmark'
The design for the Cumbernauld sculpture - of a female form, incorporating two large swooping arcs - was inspired by the original name for the town, "comar nan allt", which means "coming together of waters" in Gaelic.
The work was commissioned by Campsies Centre Cumbernauld Ltd (CCCL) - a company established by North Lanarkshire Council to facilitate the redevelopment of Cumbernauld.
Councillor Gerry McElroy, chairman of CCCL, said: "This piece of art will raise the profile of Cumbernauld across the country by creating an iconic landmark for the town.
"It will also help increase local residents' pride in their town and that is why we are asking the people of Cumbernauld to suggest names for the sculpture."
Suggested names for the structure should be e-mailed to sculpture@cumbernauld-sculpture.com before 30 July. Residents of any age can enter.