Paedophile jailed for raping 10-year-old boy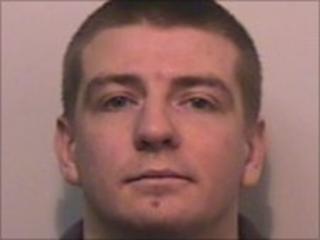 A paedophile who raped a 10-year-old boy has been jailed indefinitely after being branded "every parent's nightmare".
Gareth Hulme, a 25-year-old security guard from Manchester, was described in the city's crown court as a predatory paedophile.
He admitted raping the 10 year old and 22 other charges relating to child sex offences and indecent images.
His arrest also led to police smashing an international child sex network.
Hulme was ordered to serve a minimum of six years when he was sentenced on Wednesday.
Judge Anthony Gee QC said as Hulme was regarded as a danger to young boys it may be many more years before he is considered safe enough to release.
Hulme raped the 10 year old twice at a festival in Cheshire last year.
Lurked in chatroom
While working at the event as a security guard, he gained the trust of the boy's parents and lured him away to walk his dog in woods.
He also lurked in internet chatrooms to groom other victims, including a 15-year-old boy, and was also attempting to arrange a meeting with a friend to have sex with a nine year old.
The 10 year old's parents were in court while Hulme was sentenced.
The boy's mother, in a victim impact statement, told the court that her "happy, friendly, outgoing" son had become quiet and withdrawn since the attacks.
She said he now refuses to do PE at school because he has to take his clothes off and sometimes communicates using charts with sad or smiling faces so he can indicate his mood.
"We don't know if he will ever be the same again," she said.
When police raided Hulme's home following his arrest last June, they found a hoard of child abuse images on his mobile phone and computer.
This led to the unravelling of a child sex ring and 23 other police forces, including Interpol, launched raids to arrest suspects as far afield as Ireland, Spain and Luxembourg.
Twenty-five people have been arrested since Hulme was held and Greater Manchester Police also traced other potential child sex offenders, three of whom were charged, including a former high school maths teacher.
Judge Gee said: "No right-thinking person hearing the facts of this case can feel anything but horror, revulsion and disgust.
"I regard yours as an appalling case.
"You are a sexual predator and a paedophile.
"I regard you as a real danger to young boys who you regard as your prey to satisfy deviant and perverted sexual urges."
He added: "You are only 25 and it seems likely to me you will remain a real danger to others for many years to come."
Det Con Jordan McGowan, from Greater Manchester Police's Operation Impact team set up to smash the paedophile ring, said: "What Hulme did to these boys was horrific and has led to two families dealing with issues that nobody should ever have to face.
"Cruelly, he had such a strong psychological hold over his victims that they were too scared to come forward."