Oxford couple conned out of life savings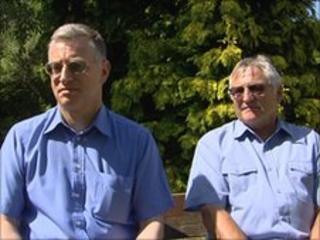 By the time John and Terry Vallis discovered their elderly parents had given away their life savings to a con man they had been paying him for two-and-a-half years.
The brothers discovered last September that the couple had lost £24,000 to a man who went as far as to fake his own death, and that of his wife and child, to get cash from them.
It is still too painful for their father, who is in his 80s, to talk about what happened.
He had been a full-time carer looking after his wife when he first met Joseph Smith.
The 40-year-old from Wokingham had carried out repair work on the couple's home in Oxford.
Over the following weeks and months Mr Smith befriended Mr and Mrs Vallis.
He told them a string of lies including claims that wife and child had died in order to get money which he claimed he would pay back.
The elaborate scam only came to light when Mr Vallis called his son to say there was something wrong with his finances.
On 25 June, Joseph Smith pleaded guilty to fraud at Oxford Crown Court and will be sentenced on 16 July.
John and Terry Vallis agreed to speak about what happened to their parents to serve as a warning to other families.
Their parents were told that money had been left to them in Mr Smith's will but in order for them to access it they would have to pay more cash to get it released.
The couple also received a phone call saying Mr Smith had died. The caller asked for money for his funeral.
John Vallis said: "It was apparent when I went to see dad that this had been going on for over two years and had been quite extensive, but it was difficult for him to open up to us because it's not something you're proud of when somebody's run off with your money.
"I did feel physically sick, it did hit me very hard, it was something I hadn't really expected.
"I think that's the lesson to be learnt from all this people have got to keep tabs on their parents and try to avert these things at the earliest date."
'Distressing'
Mr Vallis is unlikely to get any of the money back.
Terry Vallis said: "They're not wealthy people, never have been, so any savings that they did have, it was particularly distressing for them to lose in that way."
Oxfordshire Trading Standards officers have been carrying out a blitz over the last week on rogue traders operating in the county.
In total, 84 traders were checked - three were arrested and 20 were found to have committed trading standards offences such selling counterfeit goods and committing fraud.
Despite campaigns like this one, the number of doorstep crimes is on the increase.
In 2008/9 there were 266 incidents in Oxfordshire and nine prosecutions, in 2009/10 there were 409 incidents and 10 prosecutions.
Martin Woodley, team leader on the Doorstep Crime Team, said: "I think that's because people are becoming aware of the team and the police are working very closely with us, there's a large amount of people working on this now so people are reporting them because we are getting results."
Trading Standards have also been approaching legitimate businesses to encourage them to join up to the Buy with Confidence scheme.