Trees felled to preserve rare Cumbrian moorland bog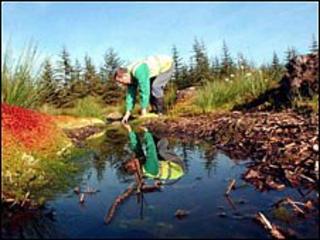 A large area of slow-growing conifer trees in Cumbria is being felled to help restore a rare moorland habitat to its former glory.
The RSPB has acquired 271 acres (110 hectares) of land at Denton Fell near Geltsdale, consisting of lodgepole pine planted on deep peat blanket bog.
But it has emerged the the trees are damaging the blanket bog.
More than £140,000 is to be spent on felling trees to preserve the bog and a number of threatened bird species.
Confined to the uplands in the north and west of the UK, blanket bog is a quilt of rich and wet peatland vegetation that takes thousands of years to form.
Its restoration is recognised as a conservation priority.
RSPB moorland warden Steve Garnett said: "Commercial forestry planting and overgrazing has led to a worrying decline in blanket bog in the UK.
"It is an incredibly important habitat for a number of threatened bird species including black grouse and golden plover.
"Moreover, blanket bog acts as a carbon storage facility, which is vital for tackling climate change."