Republican Brian Arthurs loses jury trial fight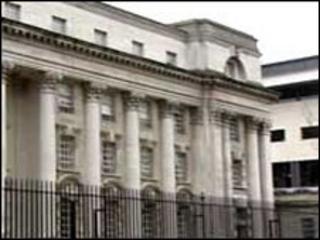 A County Tyrone couple facing mortgage fraud charges have failed in their legal bid to be tried by a jury.
Dungannon republican Brian Arthurs, 45, and his wife Paula were seeking to quash a decision that their case should be heard by a non-jury Diplock court.
It was the first judicial review challenge to be brought against a provision under the Justice and Security (Northern Ireland) Act 2007.
The High Court ruled the Director of Public Prosecutions acted correctly.
Legal representatives for Mr and Mrs Arthurs, of Finulagh Road, Castlecaulfield, had argued they were being deprived of a fundamental constitutional right of trial by jury.
Although the Act allows a judge to sit on his own in some criminal trials, it was contended that the couple should have their case decided by their peers.
'Ample material'
A barrister for the DPP rejected claims that he acted irrationally in the issuing of a certificate for a non-jury trial, and said there was nothing to suggest any bad faith.
The panel of three High Court judges ruled there was no evidence that the DPP had failed to approach his task correctly.
Lord Justice Girvan said the DPP had "ample material... which entitled him to reach the conclusion which he did".
The judge said there was no basis "for considering that he left out of account relevant considerations or took into account irrelevant ones".
He added: "The director had to act fairly in the sense of reaching a dispassionate decision based on some material which led him rationally to form a suspicion that one or more of the conditions was satisfied and that there was a risk that the administration of justice might be impaired if the trial were conducted with a jury.
Following the verdict, Mr and Mrs Arthurs' solicitor, Kevin Winters, said senior counsel's opinion suggested grounds for appeal.
"The case will now go to the Supreme Court and it will be next year sometime before it is heard," he said.