Baby Peter clinic 'did not heed doctors' concerns'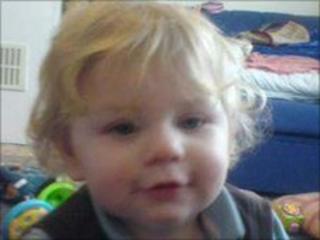 A doctor who worked at the north London clinic where Baby Peter was seen days before his death said managers failed to heed his concerns.
Dr Sethu Wariyar worked at St Anne's clinic in Tottenham, for Great Ormond Street Hospital (Gosh) in 2006. He left six months before Baby Peter's death.
He told BBC London that consultants were told by managers at the clinic to stop filing written complaints.
A statement from Gosh said the concerns of consultants were taken seriously.
Dr Wariyar was one of the four consultants at the clinic who complained in writing to Gosh and their partners Haringey Primary Care Trust.
He is the second doctor to accuse the hospital of failing 17-month-old Peter Connelly who died on 3 August 2007 at his home in Haringey. He had more than 50 injuries, including fractured ribs and a broken back.
Earlier Dr Kim Holt, a senior consultant paediatrician, had warned about the way the clinic was run in 2006.
'Waiting to happen'
Dr Wariyar, who now works in Newcastle, said he had felt isolated and under pressure, carrying out medicals on vulnerable children.
"We did not have access to any of the previous notes. There's no IT networking with the local hospitals, so we don't know whether this child has been admitted a few years ago for broken bones or for some bruises elsewhere or has he been presented to A&E locally.
"We had raised concerns about this disaster that was waiting to happen, particularly in the background of this being the same place where many years before Victoria Climbie disaster had happened.
"I would have expected a more robust system," he added.
Dr Wariyar said he and the other consultants made written complaints to raise their concerns about the clinic but were "told not to fill in these forms" by managers and told "don't be so dramatic".
Dr Sabah Al-Zayyat, who replaced Dr Wariyar, examined Baby Peter and she allegedly missed his serious injuries including eight broken ribs.
He thinks the doctor, who is suspended, has been made a scapegoat.
"I was relieved to leave that job. Looking back, I thought I was perhaps lucky because it could have been me that would have gone through the same process and I might not have been supported by the managers or by anyone."
A statement from Gosh said: "The independent NHS London report in 2009 stated that when the four consultants raised their concerns in 2006, to the PCT managers and us, these were taken seriously.
"Dr Wariyar met privately with the chief executive of Gosh before his departure from the trust and never raised any of these continuing concerns with her."
The hospital added that clear improvements in the child protection service have been recognised by the health watchdog Care Quality Commission.
Baby Peter's mother, Tracey Connelly, 28, her partner Steven Barker, 33, and Barker's brother Jason Owen, 37, were all jailed for their part in his death. They were convicted of causing or allowing Peter's death.