Lover of 'honour killing fire target' backs her family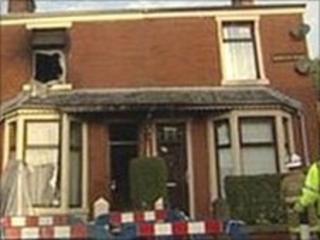 A woman whose lover was allegedly the target of a bungled honour killing told a court in Lancashire her family had "no reason to use violence".
Hafija Gorji, 22, said her family would not have wanted to kill Mo Ibrahim.
Mr Ibrahim's neighbours, Abdullah Mohammed, 41, and his wife Aysha Mohammed, died in a fire at their Blackburn home last October.
Hisamuddin Ibrahim, 21, Mohammed Miah, 19, Habib Iqbal, 25, and Sadek Miah, 23, all of east London, deny murder.
Mrs Gorji told Preston Crown Court her and Mr Ibrahim were still in a relationship, a fact now known by their respective families.
She said at the time of the killings her family did not even know she had committed adultery with Mr Ibrahim.
She said her marriage was effectively over nine months before the fire and she is finalising a divorce.
'Religiously accepted'
She told the court that her family now knew about her affair with Mr Ibrahim and that divorce was "culturally and religiously accepted" in her community.
However, a transcript was read to the court in which she makes a call to the police saying her family were "flipping out" after finding out about her affair.
The nursery nurse made the call a month before the fatal fire at the Mohammeds' home.
She told an operator: "I am going out with this guy and my parents have just found out about it.
"They are going to go to his door and cause trouble so I wanted to just warn you before anything happens.
"They were flipping out about it.
"Now they know where he lives, I'm really scared. I'm afraid they might do something."
Mrs Gorji told the jury she was not talking about her parents, but instead meant her husband Jamal and his family.
Jamal had discovered a text message from her lover which said: "I want to hold you in my arms."
The court was told that led to a meeting with Mrs Gorji's family, where Mr Ibrahim swore on the Koran that they were just good friends.
She said she was worried her husband might involve his family, but she did not fear they would use violence against them.
Sadek Miah has pleaded guilty to an alternative charge of manslaughter, which his co-defendants all deny.
The trial continues.