Half-tonne bell stolen from church in Old Trafford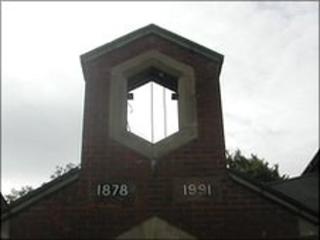 Police are investigating the theft of a cast-iron bell, weighing half a tonne, from a church in Greater Manchester.
The thieves struck at St Bride's Church in Blair Street, Old Trafford, at about 0135 BST on Wednesday.
The bell is about the size of a football, the Reverend Canon Phil Rawlings said.
He said he was woken by the bell ringing three times. He went to investigate, but the bell and the thieves had disappeared.
The bell was mounted on the outside of the church, which was built in 1991 to replace a Victorian church which had stood there.
"The thieves have climbed on to the roof of the building and have undone the bolts that held the bell on to the brackets and then pushed it over the side," said Mr Rawlings.
"There are dents on the paving stones where it has landed.
"I think I must have heard it falling."
He said the theft was a "nuisance" but "would not change what they do" as they do not use the bell regularly.
"It does look very odd from the outside though," he added.
The church is now having to claim on their insurance to replace the bell.