Dunbar brewer Belhaven reports sales of £152m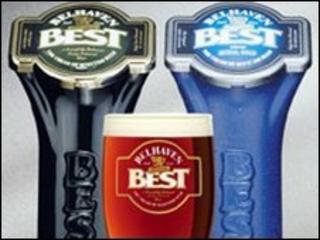 The Dunbar-based brewer, Belhaven, has reported another record set of figures.
The company has announced sales of £152m in the last year, a rise of 11.7%, with operating profit up 8.3%.
Belhaven's parent company Greene King made more than £100m in the year, an increase on last year.
Belhaven's pub business did slightly worse than the previous 12 months but the company said the tenanted business was "well prepared for any further economic pressure in Scotland".
Belhaven has been brewing beer in Dunbar for more than 300 years and about 170 people are employed at the brewery.
In 2005, Dunbar brewery in East Lothian was bought by Greene King for £187m.
Belhaven Best, its flagship beer, is among the 10 most popular alcoholic drinks in Scottish pubs.
The company's products include 80 Shilling, Best, and St Andrews Ale.
The group, which also owns the Loch Fyne restaurant chain, said it had been another challenging year.