Cornish estate tenants facing eviction because of sale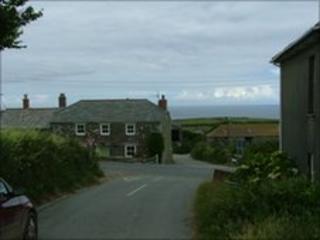 About 40 people could be evicted in the sale of an estate in Cornwall.
Trevalga was left by Gerald Curgenven, the last lord of the manor, to a trust in 1959 with the profits to go to his school, Marlborough College, Wiltshire.
The college has since come to own it, and agents for the estate said the college, a charity, was told it was breaking charity law if it kept it.
Tenants in the hamlet, between Tintagel and Boscastle, said selling was against the dying wishes of Mr Curgenven.
Community concerns
Mr Curgenven bequeathed the estate to the Trevalga Estate Trust to maintain its land and buildings for future generations after he died in 1959.
However, a legal error discovered in the original document that set up the trust has meant the estate has become the property of the college instead of it just receiving the estate's profits.
Some 16 tenanted properties are being put up for sale on the 3,000-acre site. Some of the buildings in the hamlet date back hundreds of years.
Tenant Tristin Partrick, who has lived on the estate since he was three-years-old, said the sale went against everything Mr Curgenven set out.
He said: "I believe that he will be turning in his grave and completely horrified that his dying wish hasn't been respected."
People who own their homes said they were also concerned about what the sale could mean.
Retired doctor Chris Jarvis said: "I suppose the biggest concern is what will happen to the parish in what is a thriving community with families who have lived here for several generations.
"If it becomes all second-homed out or holiday-letted, essentially it will have a few weeks of the year when it has a population, and, for the rest of the time, it will lie dormant and inactive."
Property consultants Savills is in charge of the sale, which is due to start in the summer.
Company director Mark Syrett said the college had no choice as it was recently advised it was in breach of charity law.
He said: "They're a charity and their charity obligations are to provide education facilities, so the ownership of an estate in Cornwall does not meet those obligations."
Some of the households affected had secure tenancies, he added.
The college has not been directly available for comment.