Derry aims for alcohol free streets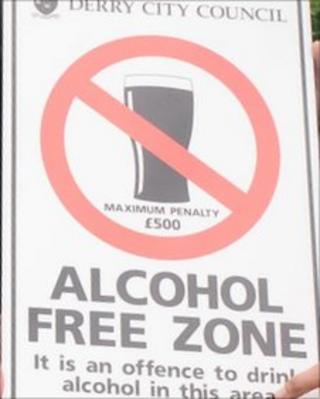 New signage is to be erected across Londonderry enforcing the city's alcohol free zones.
A bye-law, introduced in October 2009, prohibits the consumption of alcohol in any public place.
The PSNI can now confiscate alcohol, take the names of offending drinkers and then pass them onto Derry City Council, who could then choose to prosecute.
The maximum fine people could face is £500.
The signs are being erected in council parks and areas that are particularly prone to the consumption of alcohol.
And in streets and public places associated with incidents of anti-social behaviour reported to the PSNI and Derry City Council.
The city secretary and solicitor for Derry City Council, Damien Mc Mahon, said the legislation and signage would help tackle anti-social behaviour.
"The relationship between on-street drinking and anti-social behaviour is well established," he said.
"The result of such incidents can be devastating not only for individuals but for the entire community and city in general.
"This new bye-law will help to reduce public disorder and the fear of crime, creating a safer environment for everyone and enabling all our citizens to enjoy public spaces."
Also, under the Policing and Crime Act 2009 young people under 18 years of age can now be prosecuted for persistently possessing drink in a public place and if caught three or more times within a 12 month period could face a maximum penalty of a £500 fine.
Police also have the power to bring young people under the age of 16 back home if they suspect they have been drinking.
"The erection of the new signage means there is no excuse when it comes to members of the public drinking alcohol in areas covered by the bye-laws," said Chief Inspector Chris Yates, area commander of Foyle.
"On-street and underage drinking is an issue for police and we will continue to work in partnership with Derry City Council to enforce the legislation as and when necessary."