Bombardier and P&W challenge industry giants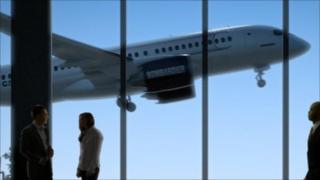 A bright and airy mock-up cabin, a Chinese-made fuselage being tested in Canada, and an aircraft engine with a geared fan.
These are the building blocks for a plane that sets out to challenge the hegemony of aircraft makers Airbus and Boeing, and engine makers Rolls-Royce and GE.
The world's third largest aircraft maker has teamed up with the world's third largest engine maker: Together, Bombardier and Pratt & Whitney are about to launch a new aircraft that they hope will hit the industry giants where it hurts.
"We're entering the market segment that Airbus and Boeing have given the least attention," Bombardier Commercial Aircraft executive Ben Boehm tells BBC News.
"This is a road warrior plane," he says during a tour of the Canadian plane maker's aerospace product development centre in St Laurent, near Montreal.
"It is the first ever design of an aircraft that is purpose built for the 100-130 seat market segment."
Transforming Bombardier
That market is set to balloon, Bombardier predicts.
"We think this segment is going to have about 6,300 orders... over the next two decades," Guy Hachey, Bombardier's president and chief operating officer, tells BBC News.
So it has invested C$3-3.5bn (US$2.9-3.4bn; £1.9-£2.2bn) in the new plane in an effort to steal a march on its rivals.
"We'd like to get 50% of that market," grins Mr Hachey.
If that was to happen, Bombardier's earnings should soar.
"We feel we're coming with a game-changing aircraft," Mr Hachey says.
"The CSeries will add C$5-6bn per year to our revenues. Today we're a C$10bn company, so it is very, very significant."
In essence, the CSeries could help transform Bombardier from a relatively small manufacturer of business and regional jets to a giant that races against "Team A and Team B", as aerospace giants Airbus and Boeing are sometimes referred to here.
Shrink and stretch
On paper, the CSeries is impressive, at least when compared with rival planes that are currently on the market.
Not only is it 15% cheaper to operate than anything else currently in production, Mr Hachey insists.
But in addition, emissions have been reduced, so the plane emits 20% less carbon dioxide and half as much nitrogen oxide as any aircraft being built today, he explains.
Indeed, when compared with planes built during the 1980s, the CO2 emissions have been cut by 30-40%, he says.
The CSeries' supposedly superior performance is a result of it being an "optimal plane" that has been designed specifically for a particular market segment.
As such, it will be up against rivals that have either shrunk aircraft originally designed to seat more than 180 people, or stretched regional jets designed to carry fewer than 100.
"A shrink" takes a bit of a penalty in terms of economics. "A stretch" has its range reduced. Neither, according to Mr Hachey, can compete.
New engines
In St Laurent, testing of the CSeries continues, including pressure testing of the fuselage, which is made in China, and wind tunnel testing using special miniature models.
Bombardier is eager to stress that the CSeries will combine the nimble handling of regional jets with the longer range of larger jets.
This has the potential to change the way we fly, according to Mr Hachey.
Take London City, for instance. Currently, only relatively small regional planes with limited reach can land and take off from the small airport in London's East End.
Bombardier's plane is set to double the non-stop distance that can be flown from London City. So in future there could be direct CSeries flights from there to New York, Moscow and the Middle East, Bombardier predicts.
This has been made possible by the CSeries' PW1000G geared turbofan engines, explains Bob Saia, who is in charge of Pratt & Whitney's next product family.
"The bigger the fan, the slower it turns and the more power it produces with less noise," explains Mr Saia. Pratt & Whitney has added a reduction gear to the motor that enables the fan to turn slowly without penalising the turbine, he explains.
A demonstration at Bombardier's aerospace product development centre in St Laurent reveals how the engine makes the CSeries much quieter than rival aircraft.
In terms of overall volume, the engines emit half as much noise as conventional ones.
But more importantly, explains Mr Saia, they do so in a way that reduces its noise footprint on the ground to a quarter of the size of those left by existing planes.
"So tomorrow's airplanes can fly 24 hours a day out of airports where noise restrictions are tight," he says.
CSeries orders
Boeing is dismissive and points out that there is more to aircraft acquisitions than just efficiency.
"The big thing we're waiting to see with the Cseries is that they're venturing into an area where they've never been before," Tadashi Mabee from Boeing Commercial Airplanes says.
Industry observers are also sceptical, pointing to how airlines have been slow to place orders for the CSeries, which has been actively marketed for six years now, as they are waiting to hear how Airbus and Boeing might respond.
"The undisputable fact is that they missed the biggest orders splurge the aerospace and airline industries have ever witnessed," observes FBE Aerospace analyst Saj Ahmad.
He believes the CSeries is "too small and range restricted to effectively compete with the Airbus A320 and Boeing 737 families", while at the same time "it is too big, overweight and doesn't offer enough of a fuel burn advantage over existing regional airplanes".
"There's a lot of scepticism about whether it will be a legitimate plane or an orphan plane," one investor agrees, though he applauds Bombardier's management for being a gutsy bunch.
"They are huge risk takers," he says.
But others think the CSeries has already proven that it could become successful.
Bombardier already has some 160 orders for the CSeries, equivalent to five or six years of production, observes Damien Lasou, aerospace analyst with consultancy Accenture.
"If the only thing you have is a plastic mock-up and a powerpoint presentation," he reasons, "why would you want to order an aircraft now when there's no delivery to new customers till 2016?"