BAE to close factory in Leicester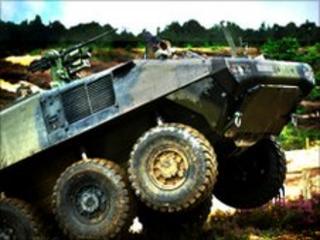 Almost 300 people are to lose their jobs after BAE Systems said it was closing a factory in Leicester.
The firm is shutting its Radar Road plant by autumn 2011, blaming the failure to win an armoured vehicle contract.
Union leaders described the announcement as "a body blow to to the local Leicester economy".
BAE Systems said it would enter talks with the unions and offer workers the chance to find other jobs.
In a statement, the company said it was "matching resources to workload following the unsuccessful FRES armoured vehicle bid".
The FRES (Future Rapid Effect System) is the Ministry of Defence's programme to deliver a large number of vehicles to the army which are capable of operating in varied terrain.
Some of the jobs are likely to be lost by the end of the year.
A BAE spokesman said: "We will be offering all employees affected an out-placement service at this difficult time to help them find alternative employment and have set up an intranet site to keep them up to date with the latest developments."
'Body blow'
Bernie Hamilton, the Unite union's national officer for aerospace and shipbuilding, said the reasons for the closure included the government's decision to award the next generation of armoured vehicles to the UK subsidiary of US company, General Dynamics.
He said: "This is a body blow to the local Leicester economy and also to the future research and development skill base of the UK's defence industry.
'It will result in the UK losing advanced research technology and manufacturing capability for armoured vehicles and will mean that the UK will be dependent on companies from other nations in future for its armoured land vehicles for the army.
"We will work with the management to identify opportunities for the workers affected to be able to transfer to other businesses elsewhere within BAE Systems."
The site opened in 1959 and was initially used for work on naval radar systems, a BAE spokesman said.