No manslaughter charge over Torrington driver death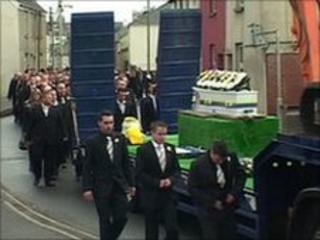 A Devon firm will not be prosecuted for corporate manslaughter after a 16-year-old employee died after crashing a company vehicle he was driving.
Daylin Brown, of Calf Street, Great Torrington, died at Coombe Farm on 5 February.
The Crown Prosecution Service said K+J Plant's Land Rover was in a dangerous state of repair, but it was not clear whether that caused the accident.
The case is being reviewed in relation to other possible offences.
In a statement, the service said: "We do not believe that the evidence we have would convince a jury that if K&J Plant breached their duty of care towards Mr Brown, that they did so in a way which was 'wicked' which is what the law requires for them to be guilty of corporate manslaughter.
Decision explained
"Although the vehicle that Mr Brown was driving was owned by the company and was in a dangerous state of repair, it's not clear whether that caused the fatal crash. The law says that it's not enough for us to tell a court that a particular vehicular fault might have caused the crash. We have to positively prove that it did cause the crash."
A letter has been sent to Daylin's parents extending its condolences and offering a meeting to explain its decision.
The CPS in Devon and Cornwall will now look at whether anyone can be charged with any other offences.
Hundreds of people lined the streets in Great Torrington on the day of Daylin's funeral. His coffin was carried on a K+J Plant low loader.