Scottish government announces 1,000 new council homes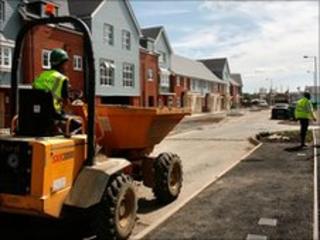 First Minister Alex Salmond has announced a £120m project to build 1,000 affordable homes across Scotland.
As well as building much-needed council houses, he said the move would support about 1,200 housing sector jobs and 700 trades posts.
Ministers have embarked on a drive to build a "new generation" of affordable homes, to tackle shortages.
At the same time, they are seeking to end the right to buy for new council and social housing tenants.
Labour welcomed the announcement, but claimed it did not make up for government "cuts" in the housing budget.
The new joint house-building project will see the Scottish government provide £30m of investment, with a further £90m coming from 22 local authorities.
Ministers said, under the initiative, a total of 3,300 new council houses would be built.
'Significant burden'
Mr Salmond said: "Not only are we providing more families with a safe and secure roof over their heads, but today's announcement delivers another timely boost to the construction industry."
Pat Watters, president of local authority body Cosla, added: "Councils have demonstrated their enthusiasm and capacity to deliver in the level of investment to revive council house building."
Labour MSP Mary Mulligan said: "I welcome the announcement of any new money for housing, but if the SNP are serious about building more houses they need to reverse the £140m cut they have made in the housing budget and restore the grant to housing associations for new homes to the same level they inherited from Labour."
The Liberal Democrats' Jamie Stone added: "This is a welcome announcement but long overdue - local councils are carrying a significant financial burden at the moment so the government will need to make sure they have access to finance to keep up their end of the bargain."
WHERE THE HOMES WILL BE BUILT:
Aberdeen - 31
Aberdeenshire - 45
Angus - 43
Edinburgh - 96
Dundee - 8
East Ayrshire - 10
East Dunbartonshire - 26
East Lothian - 96
Falkirk - 36
Fife - 62
Highland - 55
Midlothian - 47
Moray - 124
North Ayrshire - 14
North Lanarkshire - 35
Orkney - 10
Perth and Kinross - 45
Shetland Islands - 20
South Ayrshire - 26
South Lanarkshire - 25
Stirling - 55
West Lothian - 92