Royal couple toast 'best village' Llanwrtyd Wells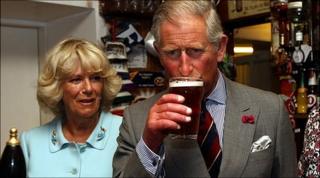 Prince Charles and the Duchess of Cornwall have visited the "best village in Wales", even though it is said to be Britain's smallest town.
Llanwrtyd Wells was named the Calor Village of the Year in 2009, and qualified for entry because its population is less than 5,000.
The royal couple met local people, including sampling ale in the local pub.
They were on the latest leg of their annual summer tour of Wales.
Llanwrtyd Wells beat seven other contenders from around Wales to claim the title last year.
Judges said the town, which stages the annual Man versus Horse race and bog snorkelling championships, had "very strong community spirit". It received £10,000 in prize money.
Town councillor and former town mayor, June Newman, described the royal visit as "very successful".
She said the prince and duchess started the day by visiting an electronics company run by her family, and unveiled a plaque, before visiting a micro brewery at the town's Neuadd Arms pub.
The prince pulled a pint of Camrian Heart, before sampling the bitter and also offering a taste to his wife.
"Highly recommended," said the duchess, after supping a mouthful.
The couple went on to the village's Cammarch Valley Butcher which despite being an old-style traditional outlet only opened in December.
Delyth Thomas, who owns the outlet with husband David, said: "People are coming back to authentic cuts of meat and turning away from pre-packed supermarket food."
The royal couple were presented with a leg of lamb before leaving for a walkabout tour of the village where they stopped and talked to the crowds.
They later unveiled a plaque marking its achivement as village of the year.
Mrs Newman said: "It was a very successful visit and both their royal highesses seemed to enjoy themselves. They talked to many members of the community."
Mrs Newman said the royal party also visited the Carlton Riverside Hotel, where they met ambassadors of the Cambrian Mountains Initiative, a town butcher's shop and local people at the town's Victoria Hall.
In Lampeter, the Prince of Wales and Duchess of Cornwall were guests at the Jen Jones Welsh Quilt Centre. It was opened in July last year at the town hall.
The week-long tour, which started last Friday, is the longest since the prince started the tradition.
On Wednesday, Prince Charles and the Duchess of Cornwall spent an afternoon at the opera. They were entertained by members of the Carmarthen Youth Opera
Prince Charles also presented long service medals to Dyfed-Powys Police members at the force's headquarters, and visited Tenby where they were welcomed by hundreds of well wishers.
On Tuesday they met youngsters supported by The Prince's Trust, at Portmeirion, Gwynedd.