Analysis: Is it really the end for NHS targets?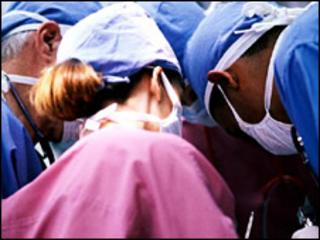 Targets split opinion in the NHS like no other subject. Labour loved them. Doctors, it is fair to say, did not.
The medical profession spent much of the last 10 years complaining they interfered with decision-making and led to perverse consequences.
This was perhaps best illustrated in a TV debate before the 2005 election.
The then prime minister Tony Blair was visibly shocked to hear that a member of the audience could not book a GP appointment in advance because their family doctor had to keep appointments free so they could guarantee consultations within 48 hours.
The government responded in typical fashion - by setting a new target for advanced appointments.
And so it continued. Targets came and went. Most were hit, enabling Labour to present a compelling argument about how it had achieved real improvements in the health service.
That, however, has all changed now. The new coalition came into power, promising to sweep them away in England.
Scrap-heap
Last week, it was as good as its word. The 48-hour GP target went as did the 18-week deadline for hospital operations. Meanwhile, the four-hour A&E target was relaxed before being being put on the scrap-heap next year - or at least that is what the Department of Health said.
But in reality they have not gone entirely. The 48-hour target was never actually an obligation for family doctors. Instead, they were paid a bonus if they hit it and that financial incentive still remains.
What has changed, as one GP put it at this week's British Medical Association conference, is that the "NHS heavies" will no longer be knocking on the door demanding to know why it has been missed.
This, of course, gives doctors a little breathing space.
Something similar has happened with 18 weeks.
The issue is further complicated by the so-called "quality measures" which were unveiled this week by Health Secretary Andrew Lansley.
More than 30 standards were published for three areas of care - stroke, dementia and blood clots.
Another 150 sets of standards are likely to follow. These will include a series of mini-targets covering access to certain areas of specialist care.
Again, there will be no enforcement by central government. Instead, the health secretary is setting out where he wants the NHS to aim for, but leaving it to doctors to get the health service there.
So does this represent an end to the target culture?
Yes and no, say doctors. Most are happy with what is being done, accepting there has to be some king of standard to measure performance by, while being relieved they will no longer have managers and ministers breathing down their necks.
The truth is the new vision is complex and hard to pin down as one thing or another.
NHS chief executive Sir David Nicholson perhaps best summed it up in a Q&A session with journalists this week.
Asked about the changes, he said the health service had to "completely change how we see things".
Only time will tell if it manages that.