Man jailed for life for Kent body-in-suitcase murder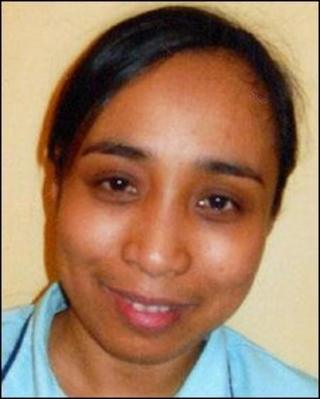 A man has been jailed for life for murdering a care assistant he met on the internet, emptying her bank account and dumping her body in a suitcase.
Clinton Bailey, 36, of Brockley, south-east London, was told he must serve at least 30 years for the murder of 37-year-old Leah Questin last September.
The Old Bailey heard the body of Miss Questin was discovered beside a dried up pond near Cliffe in Kent.
Her sister described Bailey as a "mad and senseless killer".
IT worker Bailey had posed as a BBC executive and offered gifts to seduce women he met on the internet.
Naked remains
In fact, he had no steady job and had serious money problems at the time of the killing.
Miss Questin told Bailey that she loved him but he was more interested in her £3,000 savings.
The jury heard he killed her, before clearing out her account and continuing to look for women on the internet.
He used the cash to splash out on bottles of champagne for another girlfriend, even inviting the woman round while Miss Questin's body was stored in his garage.
Miss Questin's naked remains were found on 24 September last year.
Bailey later admitted disposing of Miss Questin's body but denied killing her.
The victim's sister Alda Magdalena Questin-Esta said: "She didn't deserve the grim and tragic circumstances that led to her death.
"She became the unfortunate victim of a mad and senseless killer."