Kirkcudbright celebrates Glasgow Girls art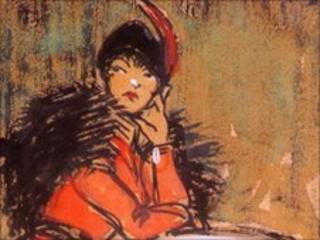 A major exhibition of the art works of the Glasgow Girls is set to open in south west Scotland.
The event runs from Saturday until 30 August at Kirkcudbright Town Hall.
The Glasgow Girls name describes a group of artists and designers with links to the city who operated in the late 19th and early 20th Century.
The Dumfries and Galloway event is being staged to complement the Glasgow Boys exhibition running at the Kelvingrove Museum and Art Gallery.
Among the artists represented are Annie French, Margaret Gilmour, Norah Neilson Gray, Jessie M King, Frances and Margaret Macdonald and Jessie Newbery.
Many of the works on show have never been seen in public before.
Lord Macfarlane of Bearsden, a patron of the group trying to establish a major art gallery in Kirkcudbright, said the time was right to stage the exhibition.
'Fresh audience'
"The Girls have not in the recent past received the recognition their work deserves," he said.
"Kirkcudbright in 2010 will reveal to a fresh audience how original, creative and versatile their work was in their disciplines of jewellery, ceramics, metal work, embroidery, design, fashion and, of course, painting."
The exhibition has been organised by Liz Arthur, formerly a Glasgow museums curator, who was involved in the last major exhibition on the Glasgow Girls in 1990.
She has also written a book to coincide with the exhibition, Glasgow Girls: Artists and Designers 1890-1930, which will be launched at the exhibition opening.
Dumfries and Galloway Council convener Patsy Gilroy said: "There hasn't been a significant exhibition on the Girls since the first was held in Glasgow 20 years ago, which was met with acclaim from critics and public.
"I'm confident, therefore, that the Girls' outing to Kirkcudbright will be an outstanding success with residents and visitors."