New rules to ensure traders accept Scottish banknotes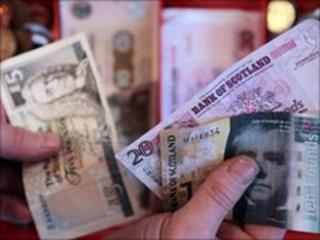 Ministers are planning new rules to ensure that Scottish banknotes are accepted south of the border, BBC Scotland has learned.
At present, traders across the rest of the UK can refuse to take the notes.
Scotland Office minister David Mundell will meet banking officials to consider what regulations need to be introduced.
In opposition, Mr Mundell introduced a private members bill which would have obliged traders to accept the Scottish notes, but it was never made law.
Three Scottish banks, the Clydesdale, the Royal Bank of Scotland and the Bank of Scotland, print their own banknotes but they are not backed by the force of law anywhere in the UK, unlike Bank of England notes.