Top UN nuclear inspector for Iran, Syria to quit IAEA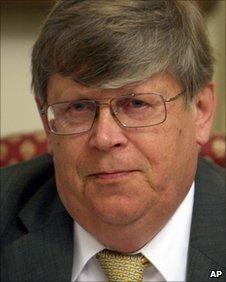 The UN nuclear agency says its top inspector - who has led investigations into Iran and Syria - has resigned after nearly 30 years of service.
Deputy Director Olli Heinonen, 63, would step down at the end of August for personal reasons, the International Atomic Energy Agency (IAEA) said.
The Finnish national has led the IAEA's safeguards department since 2005.
It is responsible for trying to verify that countries' nuclear activities are for purely peaceful means.
Mr Heinonen is widely regarded as the most high-profile official at the Vienna-based agency after Director General Yukiya Amano.
"We confirm that Mr Heinonen informed the director general of his resignation for personal reasons to take effect at the end of August," IAEA spokeswoman Gill Tudor said.
"The director general has decided to respect his intention, with high appreciation for this long contribution to the agency."
The IAEA said his position would be filled soon.
The five-year investigation by Mr Heinonen's department drew on Western intelligence to help an IAEA inquiry into whether Iran had conducted research into developing a nuclear warhead for a missile.
Tehran says the intelligence is forged and that its atomic work is for civilian purposes only.
Correction 19 October 2010: An earlier version of this report wrongly suggested that the IAEA had made the case that Iran was working on developing nuclear weapons. The IAEA's position is that there is no evidence of this.
Related Internet Links
The BBC is not responsible for the content of external sites.