Telford house fire victim 'covered in petrol'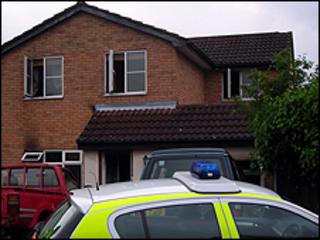 Investigators who looked into a fatal fire at a Shropshire house say they believe it was started with petrol, an inquest has heard.
Adrian Hemming, 37, who died after the fire in Sunderland Drive, Leegomery, Telford, in June 2009, was covered in flammable liquid, they added.
His partner, Andrea Partington, and her two children were rescued, the inquest at Telford Magistrates' Court was told.
Coroner John Ellery thanked neighbours for their efforts to save them.
Dazed and burning
Mr Hemming suffered 90% burns, the inquest heard.
It was told he had been seen dazed and burning in the garden at the home by neighbours and later died from his injuries at Selly Oak Hospital in Birmingham.
Neighbours told the inquest they heard an explosion and noticed a strong smell of petrol before and during the fire.
The fire investigators, John Bishton and Anthony Derricott, found traces of flammable liquid in the garden and inside the house and believe the fire started in its utility room.
Mr Hemming was covered from head to foot in the liquid they believe was petrol, they added.
They said they were unable to say how he came to be covered in the liquid and how it was ignited.
The investigators said they could find no evidence of third party involvement.
Mr Bishton said: "The fire is most likely to have been started by one of the adults intentionally or accidentally."
'Really happy'
Dr Robert Turnbull, who was on call on the evening of the fire on 9 June at the Princess Royal Hospital, Telford, told the inquest the injuries to Mr Hemming were "unsurvivable".
He said: "Andrea Partington, when she was brought into hospital that night, said 'tell him I still love him'."
Mrs Partington told the inquest she remembered nothing of the fire.
She added that Mr Hemming and herself were "really happy" and "very, very close".
At the inquest Mrs Partington and other family members thanked neighbours for their efforts to save her and the two children.
The inquest continues.