Northampton Lift Tower renovation completed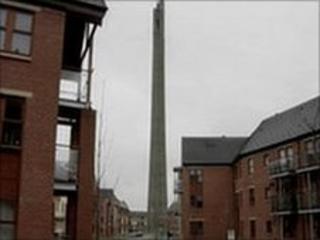 The renovation of a lift tower which dominates the skyline of Northampton has been completed.
The tower, which is 418ft (130m) tall - higher than St Paul's Cathedral in London, was built by Express Lifts and opened by the Queen in 1982.
It was Grade II-listed in the 1997 after fears it could be demolished.
Plans have been drawn up for a visitor centre at the base of the town's famous Lift Tower to include a conference centre, reception area and cafe.
There are also plans to enable visitors to travel up the outside of part of the tower in a glass lift.
Ed Wright, manager at the Lift Tower, said: "Completing the renovation marks a milestone in our plans for the tower.
"There are three phases to the project. The first phase was to rescue Northampton's landmark from demolition.
"The second phase was to complete repair works and put the building back in use as a working lift-testing tower.
"This is where we are now, with several projects already underway on the premises.
"The third phase will be to extend the tower's usefulness and appeal, a large part of which is erecting a new coffee shop and conferencing centre next to the tower.
"We will also be installing a scenic elevator near the top of the building."