Mother of two froze to death on doorstep in Warrington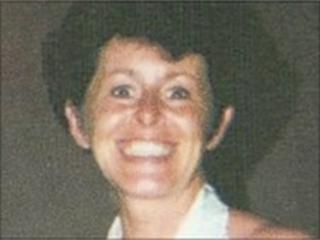 The death of a mother of two who froze on a doorstep in Warrington wearing only a fancy dress outfit was accidental, a coroner has ruled.
Jeanette Jackson, 47, who was dressed up as a police constable, died of hypothermia on 1 February 2009.
Despite her friend making seven 999 calls, it took police about two hours to arrive at the scene in Poplars Avenue.
A police watchdog said officers had "graded the calls appropriately".
The Independent Police Complaints Commission (IPCC) said that Cheshire Police should be cleared of any blame because they had reacted appropriately to the information given over the phone.
Coroner Nicholas Rheinberg gave a verdict of accidental death at the inquest at Warrington Coroner's Court.
He heard how Ms Jackson was three times over the drink-drive limit when she was found and she was incoherent and violent towards officers.
Ms Jackson had met friends at a house in Poplars Avenue on 31 January with the intention of going out to celebrate a birthday in Warrington town centre.
However, when taxis arrived at approximately 2030 GMT Ms Jackson was deemed too drunk to be taken and was left outside the property in just her fancy dress outfit.
She remained there attempting to gain access and damaging the door as the temperature fell below freezing.
When her friend returned at 0040 GMT, Ms Jackson was still there and covered in blood so she called the police but she did not let Ms Jackson into the house.
A further six calls were made and a police officer arrived at the scene at 0254 GMT and found Ms Jackson bloodstained and banging on the door.
She was led to a police vehicle but collapsed. An ambulance was called but she was pronounced dead at Warrington General Hospital.
'Tragic incident'
The investigation concluded the police grading of the calls was appropriate given the information contained in them.
An IPCC spokesman added: "However, it is evident due to resourcing issues the target response time of 60 minutes was missed.
"Cheshire Constabulary has reviewed and is in the process of upgrading its IT systems to ensure there is a clear, detailed knowledge of the status of patrols to ensure available resources can be deployed."
IPCC commissioner Naseem Malik said: "This was a tragic incident resulting from a combination of excessive alcohol consumption and freezing temperatures.
"Ms Jackson had a history of heavy drinking and it is clear from the toxicology results that she had consumed a large amount on this occasion.
"It is clear the officers attending the scene acted professionally and did what they could to assist Ms Jackson."
A Cheshire Police spokesman said: "The death of Jeanette Jackson is a tragic loss and our sympathies lie with her family, particularly her two sons. Her death highlights the potentially fatal consequences of excessive drinking."