Carwyn Jones 'on the road' over public sector cutbacks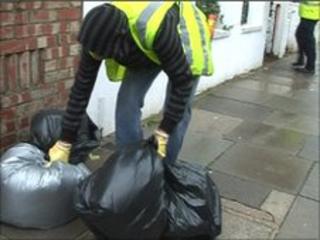 First Minister Carwyn Jones said he would be "on the road" over the summer to hear first hand how public sector services should be protected.
The assembly government holds its second public services summit in Cardiff on Friday.
The theme for the event is "integrated health and social care".
Afterwards, Mr Jones will visit a pharmaceutical industry site in Cardiff that has seen £10m investment in manufacturing facilities.
Mr Jones is to tell the summit that the figures and messages from the Budget and the UK government's spending review in the autumn are "stark and potentially devastating" for the most vulnerable.
He is to say: "We have to take a radical look at how we work, redesigning the front-line services and streamlining corporate functions.
"The best place for us as leaders to learn what can be done with least damage is from those who provide our services and those who use them.
"I will be on the road through the summer, in all parts of Wales, meeting staff and users of services.
"I want to explain our approach and seek their expertise in protecting services and outcomes.
"I will use the authority I have to ensure that this expertise is translated into action."
Later on, he will be cutting the ribbon to open the final stage of new facilities at the 30-acre GE Healthcare site in Whitchurch, Cardiff.
The facility produces paper products used worldwide in the filtration of liquids and gases in the pharmaceutical and food and beverage industries.