Equal pay rule 'threat to British shipping firms'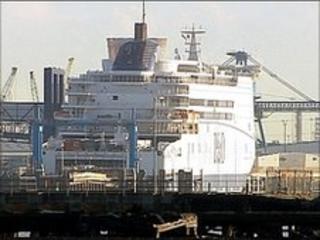 Major shipping companies have warned that some firms may be forced to quit the UK because of new rules governing how much they pay foreign workers.
Firms including P&O, Stena Line and Maersk have objected to regulations requiring crews based overseas to be paid the same as those in the UK.
They say the government "appears on the verge of encouraging shipping companies to take their business elsewhere".
Transport minister Mike Penning said the issue was being examined.
In an open letter to the Daily Telegraph, senior executives of major cruise, ferry and freight operators said: "As a result of an obscure regulation arising from the Equality Act, many major companies will have little choice but to re-register their ships away from Britain.
"These companies currently pay seafarers resident abroad at levels... related to those of highly-skilled professionals in their home countries.
"What is being proposed would compel UK-flag operators to pay UK rates to these seafarers, even though they do not incur their living costs here and may never even set foot on British soil."
The letter said the resulting increase in costs would put their UK operations "under intolerable pressure" not felt by foreign competitors.
Commenting on the possible effects on its ferry services from the Humber, P&O said: "Crew on our North Sea ships are paid the going rate for highly-skilled professionals in their home countries.
"Any move to increase the burden of costs on our business will be a risk to jobs."
'Very negative'
Mark Brownrigg, director general of the Chamber of Shipping, said: "I don't know of any other business sector which will be required to pay British wages to employees who are based and live abroad.
"It is absolutely standard practice throughout the international shipping industry for seafarers from different countries to be paid at different rates.
"What we are going to see is cost increases imposed on UK flag operators which are not imposed on anyone else.
"A number will be persuaded they cannot do business under the British flag.
"We could see up to 25% of our trading fleet move abroad - a huge and very negative development."
In a statement, Mr Penning said: "I am considering the issue of differential pay for seafarers in the light of the current position in EU law.
"I'm examining the evidence submitted by all sides of the industry and have invited further comments from all parties.
"Once I have considered carefully all the evidence and views I will report to Parliament on our proposed way forward."