Jersey hosts Brazilian culture festival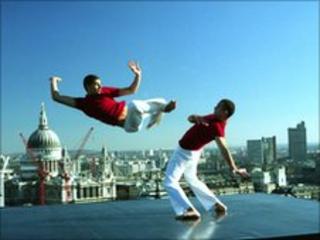 A Brazilian culture festival has returned to Jersey for a second year.
The event, organised by the Jersey Capoeira Association, is due to run until 5 July.
Gail Bennie, one of the event organisers, told BBC Jersey the event aimed to showcase Brazilian music, sport and dance.
Events planned include beach sport in St Helier and dance workshops at St Mary Community's centre.
Ms Bennie said: "We had our first Brazilian culture festival in Jersey last year and this year we thought we'd go with it again and make it a little bit bigger, open up the workshops to more people.
"We have 21 students and instructors over from London. We have all sorts of events going on starting tonight.
"We're meeting up with the community sports development officer on West Park beach so we're going to show the children that are gathering in the area how Capoeira is played."
Capoeira is an art form that combines elements of martial arts, music, and dance.