Sir Tom Hunter considers sale of footwear chain Office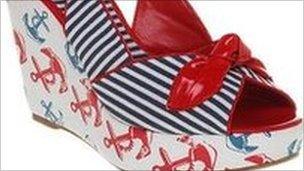 Sir Tom Hunter has appointed advisers to look at the possible sale of the footwear chain, Office.
Office is owned by Sir Tom's private equity group West Coast Capital, and is thought to be worth about £150m.
The company has more than 100 stores in the UK and Ireland, including concessions in Selfridges, House of Fraser, Harvey Nichols and Topshop.
In the past year it increased sales by 29% to £135.7m and earnings before tax were up by 146% to £18.5m.
Office has been one of the most profitable parts of West Coast Capital (WCC).
Over the past two years the value of the private equity group's investments has slumped by more than £250m.
The chief executive of Office, Brian McCluskey, said: "WCC has held the business for seven years now, so this is timeous in the lifecycle of private equity, particularly given we have received several unsolicited approaches for the business."
Related Internet Links
The BBC is not responsible for the content of external sites.