Brenda Fricker to make dramatic Casualty comeback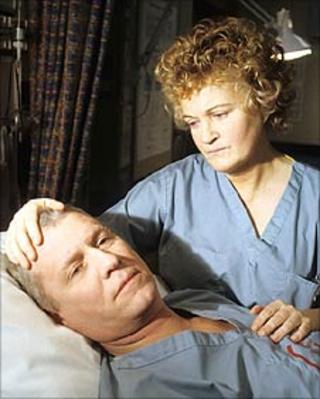 Actress Brenda Fricker is returning to medical drama Casualty at the centre of a dramatic euthanasia storyline, the BBC has confirmed.
The Oscar-winner will reprise her role as Megan Roach later this summer with her character fighting cancer.
The former nurse turns to longtime friend Charlie Fairhead (played by Derek Thompson) to ease her suffering.
The Irish star, who won an Academy Award for My Left Foot in 1989, was a regular in the series from 1986-90.
The 65-year-old was last seen in the long-running BBC One series in 2007 in a single episode which was made for the Comic Relief fund-raiser.
'Incredible'
She also made an appearance in 1998 to attend the wedding of former colleague Charlie to Baz Samuels.
Fricker's other credits include Hollywood family film Home Alone 2 and more recently World War II epic Closing The Ring, directed by Sir Richard Attenborough.
Casualty producer Oliver Kent said Fricker was "top of my list" as a character he wanted to bring back to the series.
He added that the storyline comes to a climax with Megan, Charlie and his colleague Tess - who helps him wrestle with the dilemma - in an episode filmed largely on their own.
"Brenda's just incredible. It was the first time I'd watched an episode and not had a single note to give," said Kent.
The serial is due to celebrate its 25th birthday next year, with "some very big and exciting plans", according to its producer.