Rural broadband 'notspots' in Wales get £2m support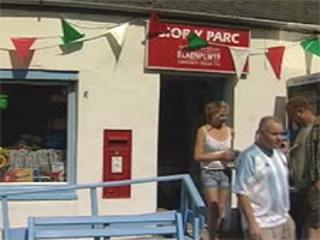 Broadband will be brought to some of Wales' so-called rural "notspots" with the help of a £2m support scheme.
A maximum of £1,000 will be available per individual application when the project starts this summer.
A broadband "notspot" centres on the distance residents are from their telephone exchange.
The lack of broadband access in rural areas has been heavily criticised in recent years.
In 2007, regeneration group Mid Wales Partnership said black holes in rural Wales' broadband network were putting it in danger of falling behind the rest of the UK.
It called for "urgent planning and investment" to improve high speed internet connection.
Deputy First Minister Ieuan Wyn Jones, who launched the project in the village of Blaenplwyf, near Aberystwyth, explained how it will work.
"People will be able to make an application for the grant," he said.
"That grant will be processed, an agreement will be made for somebody to make that connection for them. The cost will be paid for under the grant and of course people will then make their own arrangements with the provider."
Mr Jones said broadband services were "vital to ensure our country can develop the knowledge economy, improving the ability of businesses and individuals to network and innovate.
Mr Jones, who is also minister for the economy and transport, added: "So despite current pressures on our budget we are determined to find ways of opening up access for the relatively few areas in Wales that remain unable to benefit from broadband services".
Ann Ffrancon, who was at the launch, said: "In our instance it's been a long struggle to try and get broadband to Blaenplwyf and we've failed for a number of reasons.
"Mainly because we are too far away from the exchange and it's very frustrating for individuals and businesses alike.
"It's impossible actually to work without broadband.
"We feel very disadvantaged. Schoolchildren can't access the web as they would like and people with businesses are definitely feeling the stress of it."
Faris Raouf, who runs an internet and telecoms company in Porthmadog, Gwynedd, said the £1,000 was about the "right amount".
'Civilised country'
He said: "For a so-called civilised country, our broadband is very poor, especially when you compare it with Japan or even South Korea. The speeds we get are really slow in comparison with such countries.
"Wales, because of our geography, suffers more than other areas.
"Broadband access is vital for any business. Without it you just cannot compete with other businesses properly."
Initial funding of about £2m has been allocated, with discussions under way to access European money from the Rural Development Plan.
The assembly government said the scheme would enable individuals and communities in "notspots" to approach service providers directly. Support will be available for up to a maximum of £1,000 for individual premises.
The assembly government said that so far some 8,500 premises in Wales have benefited from investment through its Regional Innovative Broadband Support (RIBS) project. The new scheme will complement this programme.
Details of how applications can be made will be published later this month.
Last year, six more communities gained access to the broadband thanks to RIBS - Reynalton and Saundersfoot in Pembrokeshire, Llanpumsaint and Bronwydd Arms in Carmarthenshire, Cilcennin in Ceredigion and Gwytherin in Conwy.
On 7 June, Mr Jones announced that Beulah and Ystrad Meurig in Ceredigion and Cil-y-Cwm and Llanfynydd in Carmarthenshire should become broadband enabled by the end of the summer.