Lord Ballyedmond given injunction to 'end trespassing'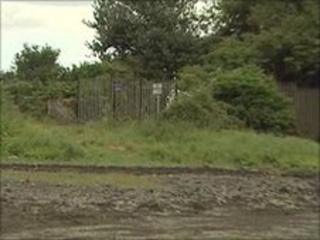 The industrialist Edward Haughey has secured an order to stop trespassing on his land in a dispute over access to a stretch of County Down beach.
Lord Ballyedmond, owner of Norbrook Laboratories, was granted a High Court injunction against Newry and Mourne District Council, restraining it from using a laneway on his estate.
The council had sought an alternative direction for the removal of metal fences erected on the land close to the foreshore at Killowen.
Mr Justice Deeny ruled the status quo should remain with Lord Ballyedmond until the case is ultimately decided at full trial.
The case centres on whether the lane is a public right of way.
The judge said: "The onus is on the council to prove the public have a right of way, not on the owner of the land to disprove it."
'Confrontations'
The judge resisted a bid to extend the injunction to include a prohibition on any form of encouragement to use the lane.
He did so after lawyers for the council pledged to do nothing that would flout the terms of the order.
The court heard how the local authority had carried out an inquiry and formed the view that there was a public right of way.
But after coming to that opinion, there were a number of "unfortunate confrontations" at the scene, according to Mr Justice Deeny.
Lord Ballyedmond applied for an order restraining any trespassing on the land and to stop the council from claiming the public could use it.
The judge pointed to one of the arguments being about alleged trespassers being close to "sensitive research facilities" for Norbrook Laboratories.
'Spiked fencing'
Applying a legal test, Mr Justice Deeny held that status quo rests with Lord Ballyedmond as owner of the land under dispute.
A senior barrister for the council argued there was no need to grant an injunction due to the physical obstruction put in place.
He described it as "large, spiked fencing set in concrete".
The lawyer said: "My client will take no steps that will in any way impinge the order of the court and will respect the order of the court completely."
As he granted the interim injunction to Lord Ballyedmond, Mr Justice Deeny also stressed how the case was still to be resolved.
He said: "In my view the outcome of this dispute at trial remains an open issue with both parties having an arguable case."
A week-long hearing is expected to take place at the High Court later this year.
The 2010 Sunday Times rich list estimated that Lord Ballyedmond was the richest individual in Northern Ireland with a fortune of £500m.
As well as the Ballyedmond Estate his other properties include the Corby Castle estate in Cumbria and a Grade 1 listed townhouse in Belgravia, central London.