Blast kills one in divided Kosovo town of Mitrovica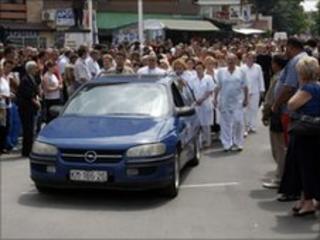 At least one person has been killed and 11 others injured by an explosion that hit a protest by ethnic Serbs in the divided Kosovan town of Mitrovica.
The Serbs were protesting against the opening of an office by the ethnic-Albanian Kosovo government in the predominantly Serb part of the town.
It is unclear what exactly caused the blast, but unconfirmed reports quoted police as saying it was a hand grenade.
Kosovo's Serbs reject its declaration of independence from Serbia in 2008.
More than 60 countries have recognised Kosovo's independence, but more than 100 still regard it as part of Serbia.
Serbia's President Boris Tadic is reported to have called an emergency meeting of the country's security council.
"It can be said without doubt, without any doubt, that at the moment an attempt to provoke Serbia is under way," Serbian Foreign Minister Vuk Jeremic told reporters in Belgrade.
"We will do everything to calm the situation down. Our actions will be directed at all sides, but we will not allow ourselves to be provoked."
'Careless armed protesters'
The head of Mitrovica's hospital said the dead person was Dr Mensur Dzekovic, a paediatrician, and that the injured had shrapnel wounds.
"We were just standing there and all of a sudden we heard and felt the explosion," Zoran Rakic - who was among the injured - told Serbia's Tanjug news agency.
"I was standing with my wife and felt the pain in my hand."
Kosovo's Interior Minister, Bajram Rexhepi, blamed the explosion on "careless armed Serb protesters", and vowed that the government office would remain open.
Often the scene of violent protests, Mitrovica is split by the River Ibar, with ethnic Serbs living in the northern part and ethnic Albanians to the south.
Nato-led peacekeepers and EU police have been deployed there in an effort to maintain order.