Ex-PM Blair in Mid-East talks with former rival Hague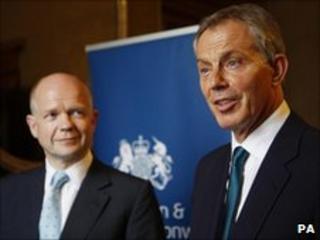 Ex prime minister Tony Blair has met Foreign Secretary William Hague to discuss the Middle East peace process.
The situation in Gaza dominated the hour-long talks at the Foreign Office, which were described afterwards as "very useful".
The pair used to lock horns across the Commons despatch box when Mr Hague was Conservative leader.
But Mr Hague said it was "refreshing" to now work with Mr Blair, an international Middle East peace envoy.
And he paid tribute to the former prime minister's efforts to get the Israeli blockade lifted.
"We have had a very useful meeting, primarily discussing the situation in Gaza that has been of huge concern to the wider world over the last few weeks," said Mr Hague.
'Urgency'
He welcomed Israel's recent concessions over the situation in Gaza adding: "I hope they will take further steps to ease the blockade of Gaza.
"The blockade of Gaza is unacceptable and unsustainable but some progress has now been made in making sure some goods can get in to Gaza and Tony Blair has been at the forefront of that work and is to be congratulated on what has been achieved so far."
Mr Hague said there was an "urgency" about the need to secure progress on a two-state solution.
Mr Blair, an envoy for the "Quartet" powers - the EU, the UN, the US and Russia, said he had kept in close touch with Mr Hague over developments in the region.
"We have a chance now to change policy in Gaza and open it up for the transfer of the goods and daily items that people need to make their lives better there.
"We also had a chance to talk about the wider peace process where we hope we can get direct negotiations going as soon as possible and where we continue with what's been a lot of progress on the West Bank - but we need to do still more."
'Important goals'
Mr Hague regularly used to get the better of Mr Blair at prime minister's questions during his time as Conservative leader, with his trademark use of mockery and humour.
But Mr Blair had the last laugh when he won a landslide victory over his Tory rival at the 2001 general election, sparking Mr Hague's temporary retirement from front line politics.
Referring to their former rivalry, Mr Hague said: "We used to discuss a lot of things in a slightly more hostile way but it is now, I think, refreshing to be able to work together for something constructively.
"The goal of peace in the Middle East is one of the most important goals on which it is possible to work in the world.
"I value Tony Blair's advice, not only as a former prime minister but as the Quartet's representative."
Mr Blair said: "Believe it or not I agree with that completely and actually I've found the interaction in the last few weeks immensely useful.
"Britain's got an important part to play out in the Middle East and I think that role will continue to be strong."