Princes Street traders beat off challenge to cut rates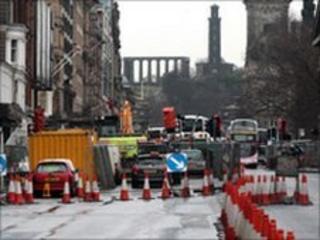 Traders in Edinburgh's Princes Street have beaten off a challenge to a cut in their rates bills because of tram work disruption.
Appeal judges at the Court of Session confirmed a reduction for February to December last year when the disruption was at its height.
The discount was pegged at 20% - the same as that previously given to stores in Leith Walk and Shandwick Place.
The Princes Street traders had hoped to have their bills slashed by 30%.
The businesses first took their case to the Lothian Valuation Appeal Committee - a panel of lay people appointed by the city's sheriff principal to look at such issues with the help of a legal secretary.
The committee were presented with evidence to back the claim that fewer shoppers were using Princes Street.
'Severe degradation'
The Valuation Appeal Committee allowed the 20% discount, but Lothian's assessor, Joan Hewton, thought there should be no reduction at all and appealed to the Court of Session.
The judges were told the assessor's claim - that the tram work could not be blamed for any effect on trading - had been dismissed as "untenable" by the committee.
They also heard accounts of the difficulties caused by noise, dust and transport disruption - including an end to the practice of loading and unloading lorries at night.
In a written ruling, Lord Kingarth concluded: "Having found clear evidence of severe degradation of the shopping environment, it cannot, in my opinion, be said that it was not reasonably open to the committee to reach the conclusion that there had been a material change of circumstances."
The judges dismissed the assessor's appeal.