NI council elections may move to avoid referendum clash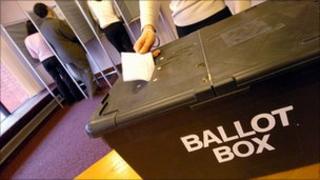 Northern Ireland council elections could be held next March to avoid a clash with a referendum on the Commons voting system.
The government has confirmed the referendum is to be held on 5 May.
Elections to the assemblies of NI, Scotland and Wales and English councils are to take place the same day, which the government believes will save £17m.
However, some NI politicians believe holding the elections on the same day would confuse voters.
First Minister Peter Robinson and the Welsh and Scottish first ministers are planning to send a joint letter to the UK government expressing their concerns about holding the referendum on the same day as assembly elections.
It is believed the electoral authorities in Northern Ireland share those reservations, and it is thought they favour holding the scheduled elections to the 26 councils on an earlier date - probably the first Thursday in March.
This would then leave a gap of eight weeks before voters are asked to go to the polling stations once again.
Order of preference
The referendum on changing from first-past-the-post to the alternative vote was pledged as part of the Conservative-Liberal Democrat coalition deal.
On Monday, Deputy Prime Minister Nick Clegg announced the date of the referendum and said "it is important to avoid asking people to keep traipsing to the ballot box" and important to keep costs down.
"That is why the prime minister and I have decided that the referendum will be held on 5 May 2011, the same day as the elections to the devolved legislatures in Scotland, Wales and Northern Ireland and local elections in England," he said.
"That will save an estimated £17m. I know that some honourable members have concerns over that date, but I believe that people will be able to distinguish between the different issues on which they will be asked to vote on on the same day."
Mr Clegg also announced plans to cut the number of MPs from 650 to 600.
The Tories say the existing first-past-the-post system guarantees strong, stable government, while Lib Dems argue it is inherently unfair on smaller parties and allows candidates to be elected despite getting the support of only a minority of constituents.
Under the proposed AV system, voters rank candidates in order of preference and anyone getting more than 50% in the first round is elected.
If that does not happen, the candidate with the fewest votes is eliminated and voters' second choices allocated to the remaining candidates.
This process continues until a winner emerges.