Eroding Cornwall coast may close beach road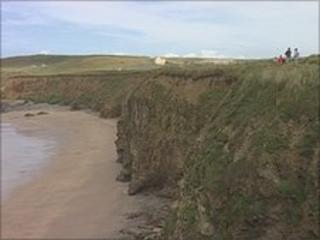 Coastal erosion at Godrevy in Cornwall could force the closure of a road and car park which gives access to a popular beach and headland.
The National Trust said erosion was a serious threat to the site near Hayle and it may close within five years.
The trust said it was looking at plans for a managed retreat to move back roads from the danger area.
But it added that not all the areas that were currently accessible would remain so.
National Trust warden Bill Makin said: "The cliffs in this area are just made of soft sandy soil.
"It's very easily eroded by rain or storms at sea that wash into the cliff, and it's an unstoppable process really. These soft cliffs are eroding back to the road.
"The danger is of course that, once the road becomes undermined, we'll lose that access to the headland car park.
"We are trying to manage that situation."