Coalition to stick with Labour's Equality Act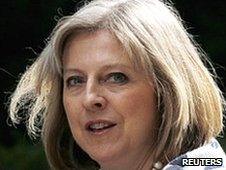 The government is pressing ahead with Labour legislation to streamline employment equality rules.
Home Secretary Theresa May said the Equality Act, passed in April, would be implemented in October.
Mrs May, who is also Equalities Minister, said it would make it easier for firms to comply with anti-discrimination rules.
It will also stop employers using pay secrecy clauses to prevent employees discussing their own pay.
In addition, the act bans age discrimination by employers and includes provisions aimed at extending the rights of disabled people.
However, the government has so far stopped short of forcing employers to reveal how much they pay men compared with women, as had been planned by the Labour government.
A Government Equalities Office (GEO) spokesperson said: "We are thinking about what our next steps on equal pay should be and will make an announcement in due course."
Drawing nine separate pieces of legislation into a single act, it was passed on 8 April but has not yet become law.
Among its measures, it imposes a new duty on public bodies - such as education authorities and health trusts - to consider reducing socio-economic inequalities, for example with policies preventing poorer children from missing out on places at the best schools.
The GEO said this was "the first wave of implementation" of the Equality Act which would "pave the way for the implementation of landmark provisions to protect disabled people from discrimination and tackle the gender pay gap".
In opposition as shadow minister for women, Mrs May had expressed fears that many of the act's clauses would be too bureaucratic and expensive.
However, she now insists the act demonstrates the coalition government's commitment to equality.
"By making the law easier to understand, the Equality Act will help businesses treat staff fairly and meet the needs of a diverse customer base," she said.
"The law will be easier to understand and better able to protect people from discrimination.
"A successful economy needs the full participation of all its citizens and we are committed to implementing the Act in the best way for business."
Trevor Phillips, the chair of the Equality and Human Rights Commission, welcomed the speed with which the government had moved to implement the legislation.
"The Equality Act will make Britain a fairer country for all," he said.
Some shipping companies have complained that the laws will force them to quit the UK because they would have to pay UK rates to foreign-based seafarers who do not have the burden of British living costs.
Related Internet Links
The BBC is not responsible for the content of external sites.