Allerton Castle fights North Yorkshire incinerator plan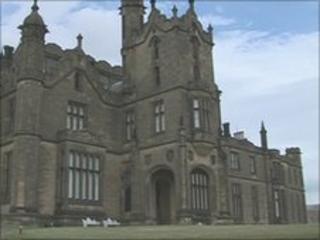 The owners of a stately home in North Yorkshire are fighting plans for a waste incinerator nearby, claiming the plans will ruin the area's heritage.
The Allerton quarry and landfill site next to the A1(M) has been named the preferred site for the plant.
The Gerald Arthur Rolph Foundation, which owns the Grade I-listed Allerton Castle one mile away, has asked English Heritage to step in to stop the plans.
Trustee Gerald Rolph said another site should have been chosen.
Dr Rolph said the incinerator would be a "massive complex right in the middle of the countryside and I think the people in this area need to question whether they want a permanent industrial site here when there are so many other places where it could be put".
Concerns 'understood'
"The contractors that are coming in to build the incinerator site had choices about where to place it and they chose to put it here and they knew very well that it was located next to a historic property," he said.
"They didn't care about the heritage here, they didn't care about the people here."
Dr Rolph said he had written to English Heritage to ask them to stop the plans going ahead and would also be lobbying the Department for Environment.
A spokesman for English Heritage said it was aware of the proposal and expected to take part in pre-planning application discussions "when the full impact of the scheme can be assessed".
He said: "While it will be important to preserve the setting of the buildings and landscape at Allerton Park, we do recognise the strategic importance of waste management proposals and hope that both can be accommodated."
Nearby residents have also spoken out in opposition of the incinerator, which the county council says would save 90% of the county's waste from going into landfill.
AmeyCespa has been named as the preferred bidder to build and manage the new waste facility.
Bill Jarvis, project director at AmeyCespa, said: "We've seen the opposition growing over the past few months and we understand the concerns and that's why we're very, very keen to go out there now and talk to them about the process we are putting in place.
"We are really keen to demonstrate what we've trying to do here."