Hundreds mark Great Western Morris anniversary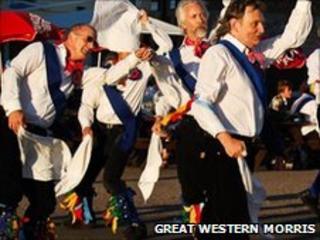 Hundreds of Morris dancers from across England have been celebrating the 40th anniversary of a team from Exeter, Devon.
The Great Western Morris team invited dancers to the county to join in a dancing tour.
Teams have been performing different styles of Morris dancing from Cotswold to North West and Rapper to Clog.
The places chosen for the exhibition dancing included Newton Abbot, Chagford, Teignmouth and Haytor.
Mass 'spot'
"It's 40 years since Great Western Morris first invited other sides to join them in a dancing tour," Great Western's "squire' Dave Brassington said.
"So we decided to celebrate with the biggest Morris tour we've ever organised."
An estimated 500 Morris men and women are taking part in the event.
The weekend tour will finish on Sunday with all the dancers congregating in Exeter for a mass "spot" at the city's Piazza Terracina.
Morris is associated with English folk dancing and normally involved the dancers using sticks, handkerchiefs and bells.