Thousands march with Pride across London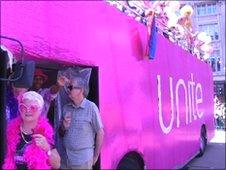 A woman in the crowd at Oxford Circus pushed her way to the front of the barriers snaking their way through the centre of London.
"Is the Queen coming past?" she asked.
Not quite, but the thousands taking part in the Pride London march on Saturday made a right royal racket, and many of their costumes were certainly majestic.
This year's procession was celebrating 40 years of the Gay Liberation Front.
According to Pride London, the GLF was a group of "radical queens, hippies, students and activists who brought LGBT (lesbian, gay, bisexual and transgender) rights out into the open".
Kicking things off at the front of the parade was the Mayor of London, Boris Johnson, who waved and smiled at the crowd, which gave him a warm reception.
Following him were thousands of revellers blowing whistles, drag queens tottering on heels, luminous pink buses and an enormous flag of rainbow colours.
A loud roar rang out as marchers wearing the uniforms of the Royal Navy, Army, Royal Air Force and the police went past.
Sports teams were also taking part, with gay football teams, rugby players and even swimmers pretending they were in a pool, all passing by.
Some marchers carried banners proclaiming allegiance to political parties, the NHS and various unions such as Unite.
Watching it all was Rachel Reason, 21, from Hemel Hempstead in Hertfordshire.
"My sister is gay and she came down to see the parade with her friends, so I wanted to come too," she said.
"It's been great to see such a mixture of people, including those from the army and the police.
"And it's great that you can do this sort of thing in this country."
As the procession wound its way down through the heart of the capital, various vehicles blared out such classics as Dolly Parton's 9 to 5 and Geri Halliwell's rendition of It's Raining Men.
The cast of Glee's cover of Don't Stop Believin' also seemed to be on a loop from one particular bus.
In Trafalgar Square, where a stage was set up for speakers and entertainment, thousands gathered to enjoy the beautiful weather.
Doing quite a bit of basking, both in the sun and the attention he was getting, was Aidyn Erikti, dressed in a Native American headdress, leather pants and boots.
Mr Erikti, who lives in London's Covent Garden, said he "wanted to deliver a message" through his eye-catching outfit.
"People should confront something they're afraid of and see that it's nothing to be afraid of really.
"People are mostly afraid of something they know nothing about. The event here is very peaceful. We want to normalise a carnival to show that there's nothing wrong with doing something different every now and then."
Proudly taking plenty of pictures of him was his husband, Richard Coombes, 39.
"You've got to have a good time and party," Mr Coombes said. "But it's also important to make a statement about human rights.
"Normality is a broad term and everybody should be able to be who they want to be."
Courtney Collins, 20, from Horndon-on-the-Hill, Essex, works as a teaching assistant and was among those in Trafalgar Square. "It means so much to have a gay day in London," she said.
Her friend Shona Phimister, 25, from Newham, London, said she had not been to the event for several years.
"Last time I came to this it was held in Hyde Park and you had to pay. Now that it's free it's much better. There used to be more nudity than there is now.
"It reminds you that there are lots of gay people out there. Being gay can make you feel isolated sometimes.
"So it's nice to come to a huge event like this and be reassured by like-minded people."
Related Internet Links
The BBC is not responsible for the content of external sites.