Katie Price and Alex Reid have their marriage blessed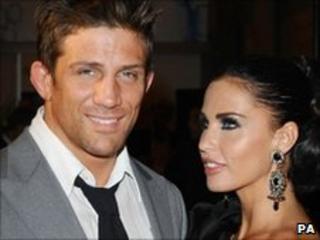 Reality TV star Katie Price and Alex Reid have had their marriage blessed at a ceremony in Surrey on Saturday.
Stars including Danielle Lloyd and Melinda Messenger attended the service at St Paul's Church in Woldingham.
The reception was held at Price's former marital home with ex-husband Peter Andre. The blessing was filmed as part of an ITV2 special.
In February Price and Reid tied the knot in Las Vegas after dating for seven months.
They met shortly after Price and Andre, who have two children together, divorced in September.
Scuffle
As Price arrived in a black van, a scuffle between photographers and security broke out.
Her entrance was shielded from members of the public and photographers by huge white sheets and umbrellas.
A spokesman for Price said the scuffles involved "people trying to enter Katie Price's car" at the ceremony.
"She is understandably shaken and upset by the actions of these people but is now looking to enjoy the rest of her day with her close friends and family."
Guests, who attended the lavish blessing, were reportedly asked to sign confidentiality agreements to prevent the press finding out any details about the service.
According to reports, attendees were sent to several different locations, before finally arriving at the church in Surrey, in order to confuse photographers.
A huge marquee was erected in the grounds of her Surrey home, where the reception actually took place, as well as at Price's second home in West Sussex.
Unlike her first marriage to Andre in 2005, photographs of the marital blessing with Reid are not expected to appear in any magazines.
Speaking about her big day in a recent interview, the former glamour model said: "It's going to be great sharing this fantastic day with my friends and family. I can't wait to celebrate our love for each other again."
Reid said: "Seeing her walk down the aisle again and being able to share it with the people we love will make this truly memorable."
Katie & Alex: For Better, For Worse - the three part TV series which will show the ceremony - will be screened later this summer on ITV2.